Find out how our happy customers use and tailor The Happiness Index to suit their personal needs.
We take a 'human-first' approach to help us understand how important it is to listen to people in real-time. We're all different! Therefore, we fully appreciate that not everyone wants to provide feedback in the same way.
Our philosophy is Freedom to be human – so no matter how daunting the task may seem, every single one of your people has the right to have their voice heard. Everyone should be happy and healthy at work. We make sure language and distance aren't barriers…
Caesars Entertainment
Ian Woodward | HR Director
"Just wanted to say how great it's been partnering with The Happiness Index. Horrific time this year with lockdown and Covid-19 but they provided us an immediate solution to the challenge of finding out how our employees were, with their tool Employee Voice 24/7. It provides us with insights we wouldn't have got any other way.

"Every time we push out communications we know how it lands with people and we get the real-time feedback so we can adapt really quickly in an agile manner. Looking forward to see where we go with it in the future!"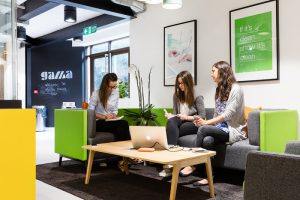 GAMA Healthcare worked with The Happiness Index to implement a global listening and culture programme that would form the bedrock of their future growth and enable them to hit transformational targets.
> Read more <