How to get boardroom buy-in for people analytics
Imagine if your company showed the same care and attention to its people as it does with its financial performance…
As HR experts, we can appreciate all the unique ways that people analytics can benefit our businesses, by helping us to measure the most important asset we have… Our People. All that's left is to build a strong case highlighting how, and why people analytics will add organisational value. Frustratingly, this is generally the hardest part!
Engagement, culture, happiness, leadership and vision are often seen as vague immeasurable metrics. Especially if the decision-makers come from financial backgrounds. Consequently, the drive to measure them and gather data is typically brushed under the carpet. Employee engagement technology allows you to collect quantitative data around these metrics. This ensures they are actionable, benchmarkable and measurable. This will provide a platform to develop the people side of your business too.
Here is our checklist of what to include when building a strong case for your people analytics programme to ensure you bring happiness into the boardroom that will permeate throughout the entire business:
Setting the scene
It isn't just HR who want more data and analytics on employees and culture. The government has implemented new reporting requirements which ensure businesses must provide engagement reports on their people and demonstrate how they have included this data to help inform business decisions and policies.
We live in a fast-paced world. Waiting in line is a thing of the past. Everything happens in real-time; our news is on social media, we can watch what we want online, any question is one Google search away from being answered… So why wouldn't we want our employee engagement surveys to be in real-time too?
We all want to work for a company that cares about people as much as profit. We certainly don't want to feel like our feelings are secondary to our figures. However, many people feel like this is their reality, and that business leaders don't put them at the forefront of their plans. This can create feelings of disengagement. Disengagement is detrimental to productivity, performance and ultimately profit. Business leaders are largely keen for HR to take a more data-driven approach. If you don't have the right technology or initiatives, it is impossible to deliver data-driven insights to the required standard. Being "stuck between a rock and a hard place" springs to mind…
Recent research from CIPD revealed that HR is being left behind regarding the strategies businesses undertake with their technology. The research stated, "HR is the least likely to be involved in investment decisions on AI and automation and in its implementation."
Here are some stats which uncover a clear need for people analytics in HR:
Only 8% of HR leaders are using any sort of analytics and people measurement tool. (CIPD)
Only 14% of business leaders are happy with the data HR is providing. (CIPD)
Only 8% of organisations thought their business was strong in the area of people analytics, despite 75% realising its importance. (Deloitte)
Only 12% of executives believe their companies are driving the right culture, and fewer than one in three executives even understand their organization's culture. (Deloitte)
people analytics to create workplace happiness
To generate a truly 360-degree view, business owners should keep track of all aspects of the business. This doesn't mean the P&L in isolation… as that definitely isn't the whole business. The most important aspect has been forgotten… Your People! By measuring wellbeing, productivity and culture as well as the traditional P&L report you will have measurable and actionable insights on every aspect of your business.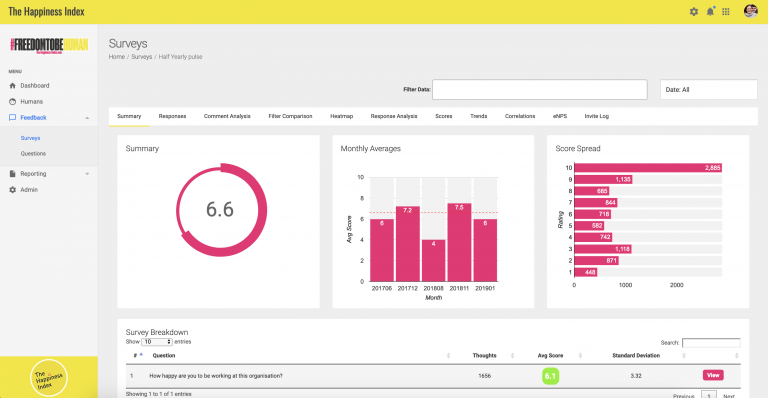 Typically, if you go to a boardroom they will have the traditional P&L statement, and someone from finance will report on it – "What's our budget? What did we spend? Are we up or down on that budget?" There's nothing you can equate to the human side of your business. We need measurable insights into our people and leadership too. This isn't your fault. There simply isn't a metric or a system in place for you to measure this.
This is where people analytics come in. When you gather metrics into staff happiness, wellbeing and culture and put numbers around them you can start to report on them in the same language the board uses to discuss the financials. The only difference is we are now discussing culture, leadership, vision and direction. This is important for CEOs or other members of the board, as it will provide them with a snapshot of the figures and a chance to quickly assess the bottom line across these areas. This will prevent topics like leadership, culture and engagement from being swept under the carpet.
Your people are at the forefront of every process within your organisation. Bearing this in mind, when looking at ROI, perhaps it is also beneficial to consider what we call ROP (Return on People.) By taking these measurements, and adding them to existing KPIs, you will be able to build strategies and action plans for the entirety of your business. Ensuring happy people and a healthy bottom line.
The problem with traditional methods
Annual employee engagement surveys are often the focal point of HR departments. This must change. Sending out an intimidating, and long list of questions once per year, is not an effective way to gauge how your people are feeling. If your people view the whole process as a chore, then the validity of your feedback will be compromised.
To combat this, we need to be gathering regular feedback to ensure that our action plans are still relevant. Pulse surveys help you to gauge how everyone is feeling right now, so you can effectively action their feedback and learn what needs to stop, start, change and continue, to make positive (and timely) changes.
What other issues are there with traditional annual surveys?
Lack of reliable data:
While many feel the annual employee engagement survey is enough to satisfy the need to listen to staff feedback – it really doesn't give you much insight. It cannot provide context around the reasons for the scores you get, and cannot help pinpoint and fix problems. Rather than providing you any insight into the factors that impact staff engagement – the traditional survey delivers a two-dimensional view of what is going on. Over a short period only.
Advances in HR technology make it easier for businesses to keep their finger on the pulse of their workforce and their sentiment toward the company. This is achieved by collecting real-time feedback and turning it into data-driven insights, that are easy to understand and build action plans off the back of.
Out-of-date insights
Most companies will record daily analytics that delivers insights into their key metrics – sales, P&L, gross margin… So, why don't we record real-time feedback from our people too?
Annual surveys are designed to cover the entire year, but most people will only feedback about things that have recently happened. By the time you have gathered feedback, analysed it and potentially discussed actions, the data is invalid, out-dated and largely useless. Consequently, you will have missed key opportunities to remedy existing problems and build on existing successes. It is far more effective to gather regular feedback, so you can take action now – instead of six months down the road.
Poor analytics, provide poor insight
Traditional employee engagement methods will transform your feedback into a large block of data, which is intimidating and difficult to digest. Whereas a good people analytics programme will transform your feedback into easily-digestible insight.
Everyone absorbs information in their own way, and through people analytics, you will have data-driven insights, that come in many forms – e.g. visuals, word clouds, graphics, tables, charts and comments. You can get further insight by selecting a specific question and viewing which of your departments, teams or companies has the lowest/highest score – and why. Focusing on score, comment and trend analysis will help you to locate specific areas that require improvement too.
These varying insights will provide you with more context around your feedback. This will pave the way for you to build tailored action plans.
How people analytics can help
The driving force behind your business is your people. The right people analytics programme can help you measure the cultural alignment, happiness and sentiment within your organisation.
The easiest and most impactive way to understand your people and create action plans to improve their working experience (and performance) is via a feedback solution that utilises people analytics to gather real-time data. These solutions will do all the heavy lifting for you. By this, I mean they will analyse your data, locate good and bad focus areas and build reports for you. That way you can focus your attention on action planning rather than data science!
By collecting real-time insights you can:
Be an empathetic and understanding business
Increase productivity and performance
Attract and retain talent
Increase wellbeing
Easily identify key areas for innovation or improvement
Locate problems early and remedy them before they escalate
Identify skills gaps
Benchmark insights against other divisions, teams and companies
Reduce absenteeism and presenteeism
Reduce recruitment and onboarding costs
Develop loyal brand ambassadors.
Analyse trends to help predict future developments.
How to introduce your people analytics programme
This checklist will ensure that your people analytics programme will be a success and generate positive organisational change:
Align questions to your company values: Measure insights and build action plans that are based on alignment with your core values
Choose questions that will make the boardroom take note: Think about the objectives for the programme. Ask critical questions. Don't ask leading questions. Only ask questions on what you are prepared to change.
Sanity check the questions: Make sure your questions are in-keeping with your vision and values, and will not generate insights that you are unable/unwilling to action.
When tracking trends – think about the timing of repeat questions: Repeat questions at key intervals, to better track and understand trends over time.
Position the programme correctly: Create a shared vision and generate an environment for change.
Be patient: Change won't occur overnight. Look for innovation, not instant perfection.
Take the pain: You may not like the results or even agree with them, but if your people are thinking it, then it is their reality. Act with integrity and honour their anonymity.
Report back: Tell your people what the results are and what you plan to do with them. Be honest; say what you can change and what you can't, giving a reasoned explanation. Whatever the results, good, bad or indifferent, report them back to your people and your senior leaders. Transparency is key.
Creating a happier and more productive workplace
Communication is one of the pillars of thriving and happy company cultures. By measuring and analysing the sentiment of your people and using it in the boardroom to ensure buy-in – you will create a happier workplace. This will result in people wanting to stay with your business, people wanting to join your business and higher productivity.
If you incorporate everything in this report, you will have a clear case that showcases how people analytics will add significant value and provide business leaders with full control over every aspect of their company. This should generate buy-in from the
If you want to discover more about the positive impact that regular feedback has on happiness, performance and culture and success then check out The Little Book of Happiness!
Sign Up
Sign up for industry news, people insight and business strategy to help you create a thrive culture.