How are Employees Feeling About a Return to the Workplace? Latest Data Trends
Boris Johnson has urged employers to bring employees back to the workplace from 1 August "If it is safe to do so", whilst advising that any decisions on return should be carefully considered and involve listening to the views of employees.
So, how are employees feeling about a return to their workplace, their current working arrangements and what would they like work to look like in the future?
We're currently offering a complimentary pre-built "Return to Work" survey to help organisations listen to their people and plan their strategy. Here we share some of the latest data trends from the Return to Work Survey data and explore what employees are feeling. Employees score 1-10 (with 10 being highest) on 10 different questions and are given the opportunity to explain their feelings with 2 comment-only questions.
1) Safety Huge Concern but Many Miss the Workplace
The two lowest average scores in the survey both related to safety concerns, either of the work environment (6.0) or travelling to the workplace (6.2):
The high standard deviation for both questions (2.6 for a safe working environment and 3.3 for travel) highlight the wide distribution of scores and the fact that whilst many employees are worried about their return, others can't wait to return to the workplace. It's abundantly clear that there's no one-size-fits-all solution but any solutions must reflect individual requirements.
"To what extent do you feel comfortable that we can provide a safe working environment when you are able to return to the workplace?"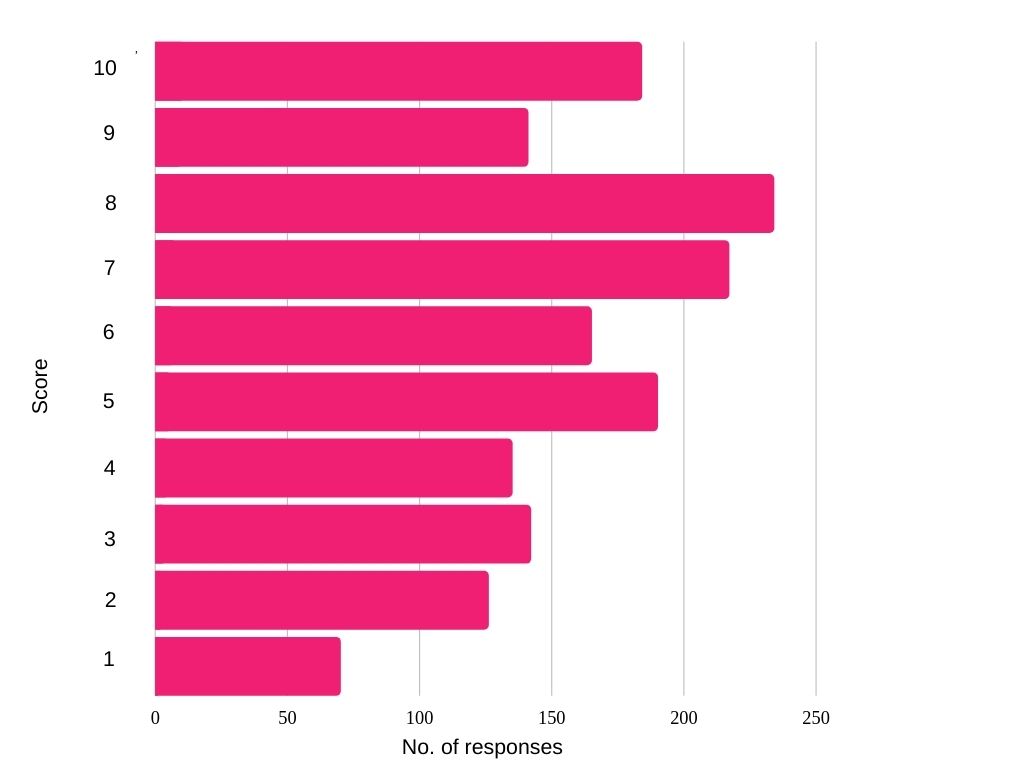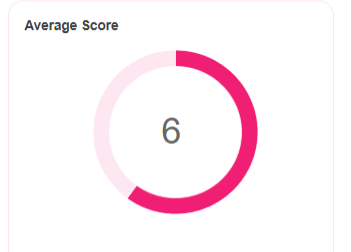 "To what extent do you feel comfortable travelling to your workplace when you are able to?"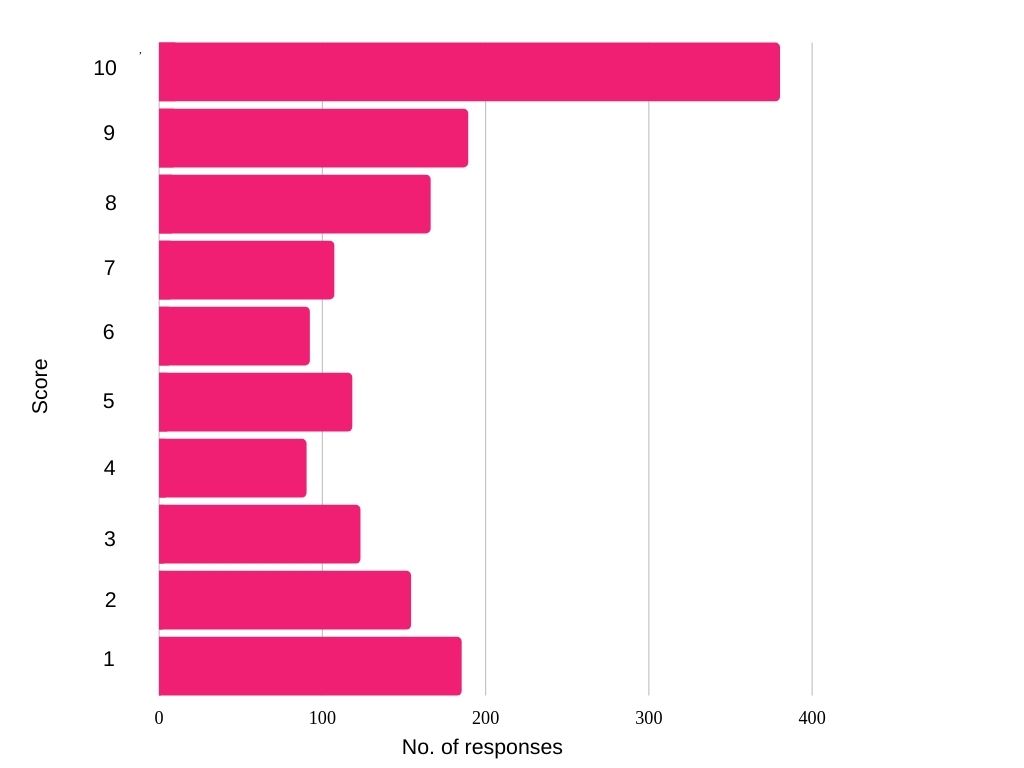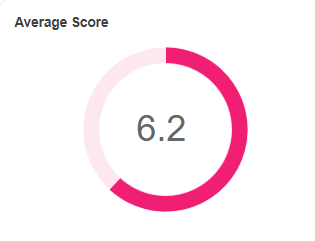 Comments
"I am still petrified at the thought of travelling on the London Underground"
"It's the travel that concerns me the most"
"I would love to get back to office, meet and socialise with colleagues"
"I miss being in the office, and this is a major factor in enjoying my work life"
2) Employees Crave Flexibility in the Future

The highest average score in the survey (8.7) was in relation to employees wanting to flex their hours in the future. The standard deviation of 1.8 showed how consistently this was desired by our respondents.
"To what extent would you like to have the ability to flex your working hours in the future?"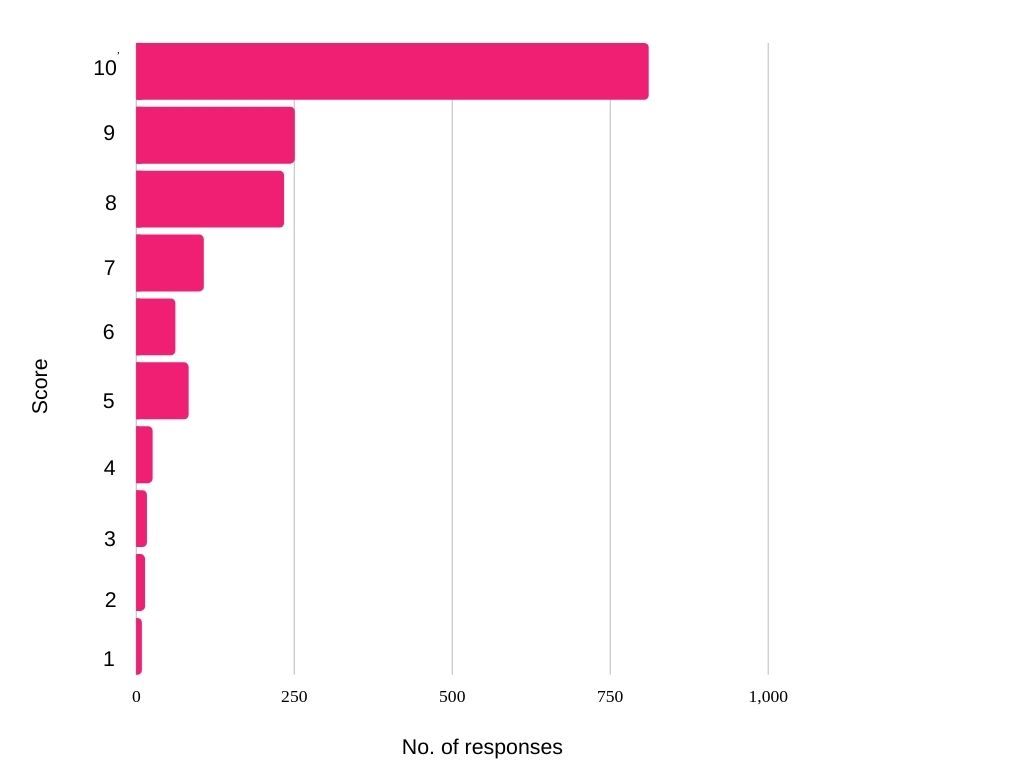 comments
"Let the employee set up their 8h shift to match when they are the most efficient. Each person is their own world"
"Traditional core office hours are limiting in terms of productivity and allowing people to manage their workloads and achieve KPIs in a way that offers more autonomy and work-life balance"
"Adjusted office hours for off-peak travel to work"
3) Employees are Largely Feeling Productive

The second-highest average score (8.4) showed that most employees have felt productive during the pandemic. Again there was a relatively low standard deviation of 1.9 indicating that this is felt fairly consistently by employees.
"To what extent do you feel you have been able to be productive during Covid-19?"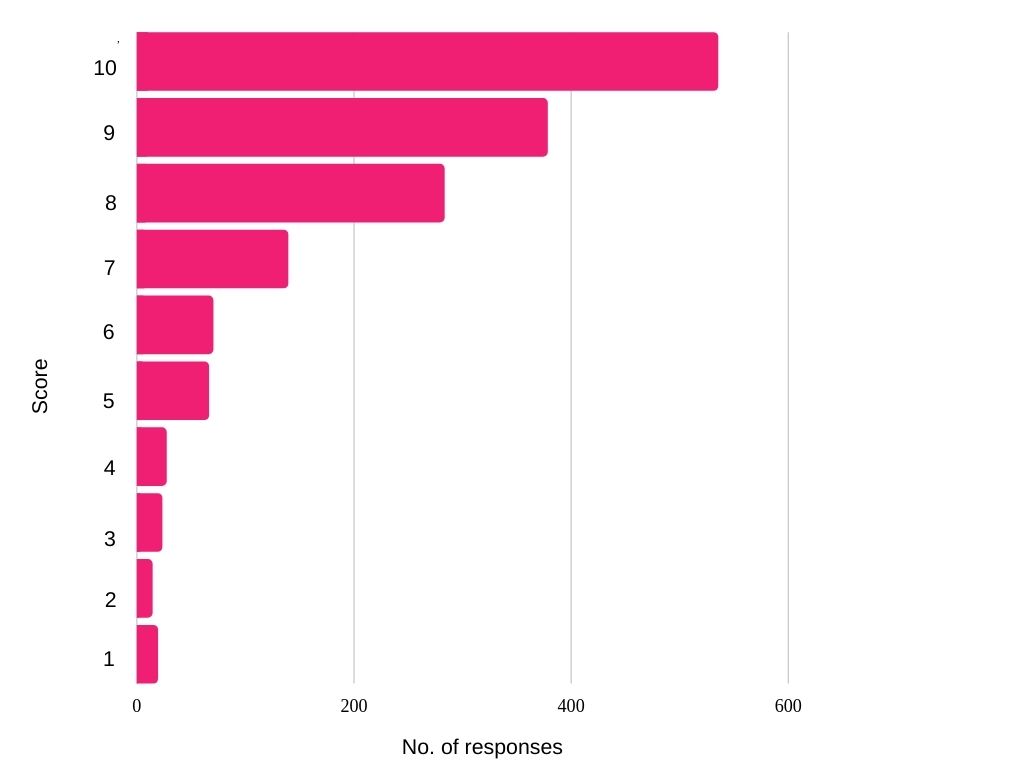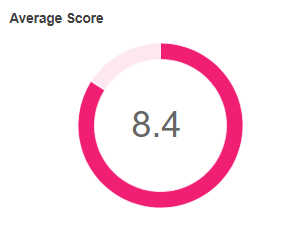 comments
"Being trusted to get work done from home has actually made me more productive and happier as a person"
"I've personally found that working remotely has had a really positive impact on my day-to-day life and my mental and physical wellbeing"
4) What does the Future of Work hold?

Employees were asked to comment on the one thing their organisation could do that would help them work better in the future. Clear themes emerged around:
Trust
"Transparency which leads to honesty and improve levels of trust"
"People need to be treated like grown-ups and trusted to work smarter"
More trust should be put in employees to decide for themselves how they can do their work most effectively"
Giving individuals the opportunity to work in the best way for them
"A change in mindset is required. Performance should not be measured on being present in the office"
"I hope people will be given the opportunity to build the working style that suits them – but this needs to come with acceptance that it will look different for each person"
Improving infrastructure & support
Continue investing in the improvement of the IT services to enable working from home to be even more productive"
"Training online and learning new skills are difficult working remotely"
Remote working this requires more training for both teams and managers to better understand pressures and requirements on both sides"
We've started seeing each other as human beings, rather than "colleagues". It would be great if this would be incorporated as a fundamental aspect of a line manager's role supported by relevant training"
Technology to support teams being able to collaborate fully when not in the office"
Reinventing what the workplace is for
"I see offices being used more freely as spaces to collaborate more creatively as teams"
I would like to see us change how we use the workplace – this should be a place for interaction and social engagement, not a place to work"
"This presents an opportunity to re-imagine the way the organisation works"
"I hope there's a focus on a better work environment – natural light, fresh air etc. To be honest I am dreading going back to strip lighting, dodgy air conditioning, and a grey open plan office"
Need to continually curate culture
"We need to be able to maintain company culture and interaction both digitally and physically and feel connected to the wider team"
"If we do have a work from home culture, there needs to be a work/life balance. Right now, we work from when we get up until early evening"
Listen to Your People

Do you need help listening to your people, and planning your return to work strategy?
Take advantage of our free "Return to Work" pre-built survey by clicking here. https://thehappinessindex.com/return-to-work-covid19-survey/

Sign Up
Sign up for industry news, people insight and business strategy to help you create a thrive culture.