Is there a link between exercise, success and happiness?
Starting a new year often begins with many resolutions of exercising more, losing weight, quitting smoking, starting a new job or climbing the career ladder – to name but a few.
Whilst your intentions were initially positive, as the January blues firmly kick-in – from scraping ice off your car each morning to returning home from work in the dark – it's easy to want to just curl up on the sofa with a hot cup of tea and leave those resolutions for a brighter day.
However, it appears that hitting the gym can help you achieve some of those resolutions easier than you think. According to an independent study conducted by Buyagift.com, high earners are exercising more, whilst stepping up the career ladder. Results show a staggering 85% of successful people earning between £100k and £200k plus per year will resolutely exercise daily.
The survey data, collated from 850 participants and presented in an interactive infographic, also startlingly demonstrates that 37% of those earning less than £20k per year never exercise. With exercise and physical activity proven to leave you more energised and productive, it's clear that those who work hard breaking out a sweat in the gym are using the same 'work hard' ethic to better their careers.
So how does exercise improve our chances of success and the overall success of our organisations?
Release those endorphins
It's all about the feel-good factor! Your body releases endorphins whenever you exercise. These are chemicals that interact with the receptors in your brain and trigger positive and happy feelings, whilst blocking out any sense of pain. The release of these endorphins makes it easier to power through those vigorous workouts, leaving you satisfied with your outcome.
Regular exercise also promotes healthy sleep patterns, which is beneficial for your overall wellbeing – not to mention your workplace concentration. To ensure that your people keep active and don't stagnate during the day, you can install some standing desks, arrange gym memberships, or even create a company sports team/league.
These increased levels of energy that come from exercising, will increase productivity within your workplace. Combine that with the feel-good factor of the endorphin rush and you will have a winning combination for you, your people and ultimately your entire organisation.
Join the elite
From those surveyed who earn under £20k per year, the findings present only 4% exercise on 5-6 days of the week. It's no secret however, that some of the world's most prestigious entrepreneurs, political leaders and high profile celebrities involve exercise as part of their daily routine whilst still pursuing a successful career – Bill Gates, Arianna Huffington and Mark Zuckerberg are all advocates.
Entrepreneur Evan Williams who co-founded Twitter and Medium has a daily ritual of taking a break in the middle of the day to visit the gym. This is a common time where energy and productivity levels dip and need to be boosted for a productive afternoon. Former United States President, Barack
Obama is also a keen sportsman – enjoying golf and basketball as well as following a daily exercise regime.
This graph highlights how an increase in exercise is a pre-cursor to success within the workplace and increased earnings: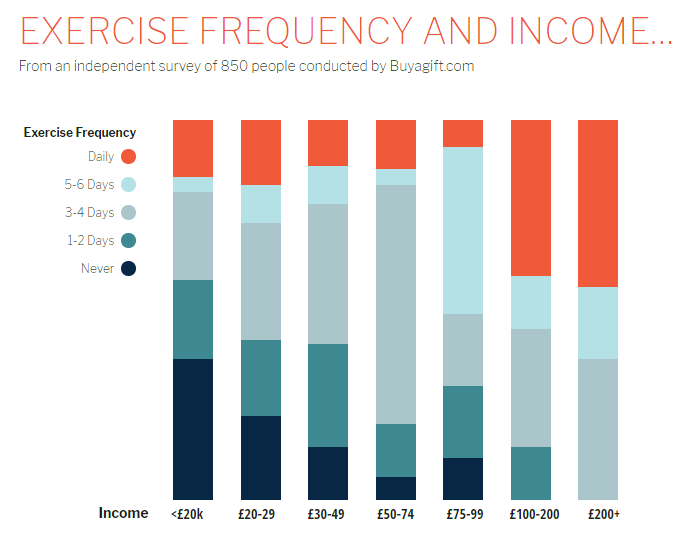 Ingredients to happiness
Whilst there are clear connections between exercise, success and happiness, the key factor to focus on is balance. To lead a healthy lifestyle requires ingredients from all these elements. For instance, what use is success, wealth and happiness without significant others to share it with?
 If anyone caught Barack Obama's farewell speech, it was clear that much of his successful career and achievements were shared and celebrated with his devoted wife and children. Getting the balance just right is the key ingredients to happiness. As the saying goes, "everything in moderation."
In today's fast-paced business world, finding equilibrium and addressing the importance of work life balance is becoming increasingly more difficult – thus increasingly more important.
By incorporating exercise into your daily routine and encouraging your employees to do the same – you and your people will be less likely to experience conflicts between home and work life and will reap the rewards of increased focus, energy and productivity. 
Book a Demo
Sign Up
Sign up for industry news, people insight and business strategy to help you create a thrive culture.