IMPROVE Employee engagement

We provide employee engagement surveys and solutions to help you identify focus areas, boost retention and create a happier workplace
Through our pre-built, bespoke and fully customisable surveys, your employees can express their:

feelings
ideas
concerns
and even complaints!
This allows you to easily build action plans to improve employee engagement and staff retention.
We create solutions to help you visualise your culture, improve performance and provide your people with the freedom to be human at work. This ensures that culture, employee engagement and workplace happiness are assured!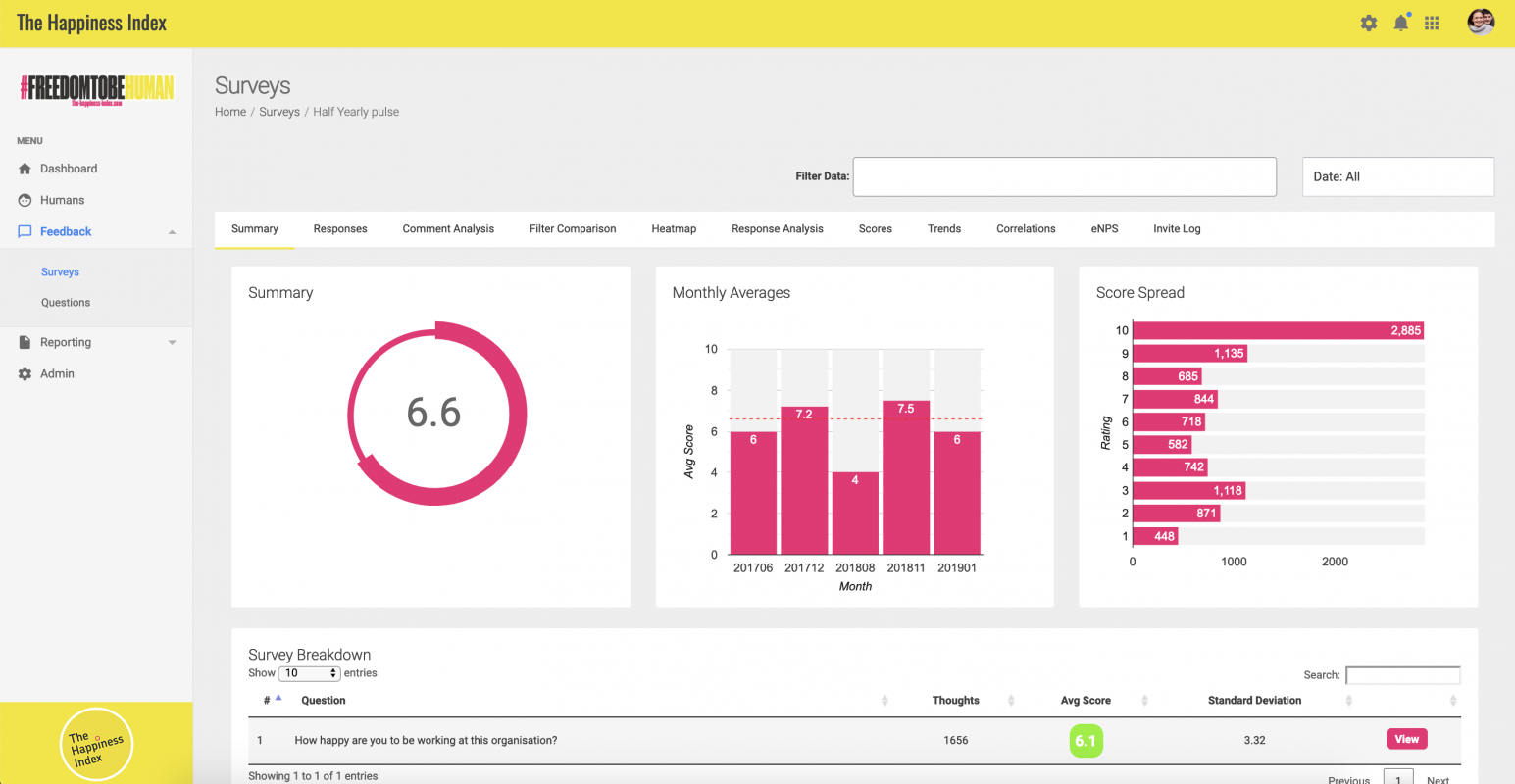 Companies with engaged employees outperform those with disengaged employees by 202% – Gallup
Our employee engagement surveys will help you understand your people and visualise your culture

We are experts in all things employee engagement, workplace happiness and culture. We have years of experience to ensure we can create meaningful surveys to help you improve business!
The role of online dashboards and reporting is to get you from data to insight as quickly as possible. That's why all of our insight tools, dashboards and reporting are designed to give you insight and not data.
Our online dashboards include trend data so you can compare performance over time, standard deviation scores so you can see how consistent or not the results are to your survey and our word clouds lets you understand the key themes your people are talking about.
Discover our Pre-built, Personalised & Enterprise survey options below.
How we can
HELP YOU
WHAT NEXT?
We give people a voice using some amazing technology – combined with some even more amazing people. And as everyone is unique, we have a different approach for different types of business.

Book a demo or get in touch with one of our friendly team members on +44 (0) 203 925 4020 to discover more about the best solution for your business.