Empower leaders
boost employee experience
"Only 22% of employees strongly agree their leaders have a clear direction for their organisation" – Forbes

Our award-winning human insights platform delivers instant intelligence that empowers leaders to make data-led decisions that will create positive and lasting change. We provide insight and analysis so you don't need a team of data scientists to really understand your business and your people!
Forward-thinking business leaders are investing in people analytics and employee engagement surveys due to the way it helps them empathise with their people, boost staff retention and put numbers around "intangible metrics"… like happiness, engagement and culture.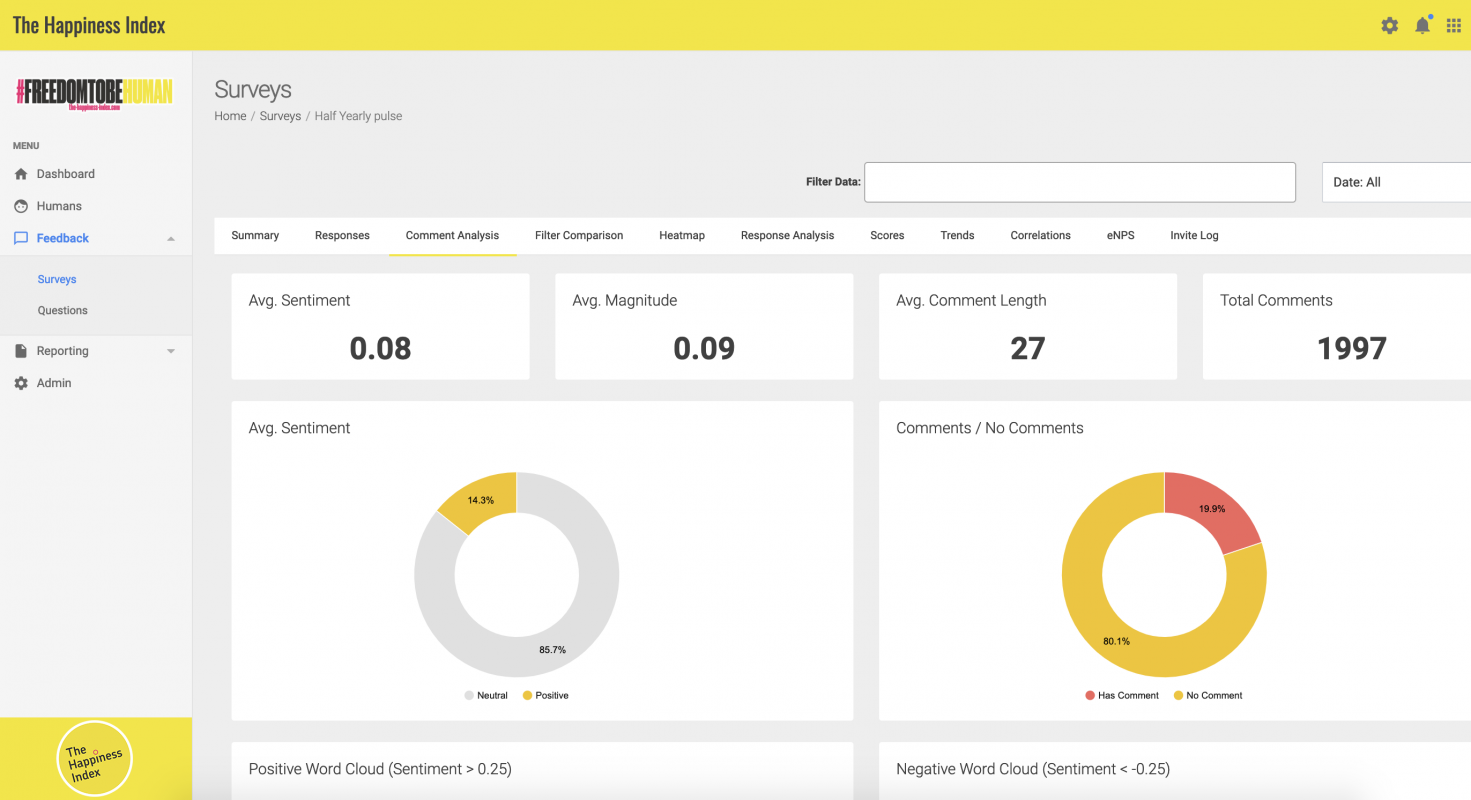 "98% of HR professionals and 92% of employees surveyed said empathetic employers drive staff retention" – Businesssolver
"Empathy is the biggest single leadership skill needed today" –
Development Dimensions International
We will help you to measure staff insights and pinpoint key focus areas so you can create meaningful action plans that will directly impact the working lives of your people, improve company culture and ensure everyone feels understood and valued.
We create personalised engagement, wellness and staff retention surveys to help you understand staff sentiment, visualise your culture and improve the employee experience. We also provide detailed analysis, reports and recommendations to ensure sustained positive change.
Using real-time feedback and insights to understand, is the most effective way to manage change, create dialogue and encourage cultural alignment.
Discover our Pre-built, Personalised & Enterprise survey solutions. What's the best option for your business?

How we can
Help you
Kerry Roberts|Head of Learning & Development|Norwood
"The Happiness Index is a simple and effective system and the support you receive from your account manager makes the journey easy. The dashboard was incredibly simple to use and provided me with instant high-level management.
"Yet the most effective element of the system is the Insights reporting tool, as this drills down on each question at the click of a button – meaning you don't need to spend hours analysing the data. Finally, we were provided with a detailed report which was well structured and provided all the information we needed to identify our organisational priorities."