Key Takeaways from 'Women in Technology 2018' (Day One)
Earlier this week I had the privilege of attending the Women of Silicon Roundabout's #WinTechSeries event at ExCel. Beginning with one very small event just two years ago, Women of Silicon Roundabout has grown rapidly and is now a global series of events that celebrate women working in all types of design and tech roles. It was pretty impressive to be honest – drawing crowds of 4500 female tech professionals.
Despite a strong turnout, the fact remains that technology as a sector is still 83% male. Why, when 51% of the population is female, are….
Only 1 in 6 tech specialists in the UK female?
Only 1 in 10 IT leaders female?
There's a way to go to inspire women to become technology specialists and in an impressive celebration of diversity and inclusion, the event brought speakers from all backgrounds to the stage. Baroness Martha Lane Fox considered a '.com dinosaur' and famed for founding lastminute.com was the biggest pull factor for me – and she didn't disappoint…
'Views from a .com dinosaur' by Martha Lane Fox CBE
Baroness Lane Fox spoke of her early career launching the travel giant lastminute.com and her battles against sexism along the way. She strongly advocated the need for diversity in technology, if only to ensure products are well suited to their audiences….
"Diversity in tech matters because…we create better products & services as a result".
The example she gave was the Apple Health Kit launched in c.2014. When originally launched it was led by a team of men, and as such – mad as it may sound – they completely forgot to include any provision for female-specific issues. Failing to have a balanced view of the technology resulted in severe embarrassment and harsh criticism for Apple who had to withdraw the product and think again (no doubt involving some female colleagues in their revised product).
Another example was in her role as a Non-Exec Director of Twitter. As a male dominated boardroom in the early days – the people in charge had not even considered the problem of bullying or trolling. In her belief – had a woman been involved in the beginning, trolling and concerns for how to prevent it would have been implemented earlier. Women are just more used to being heckled and judged publicly, it's obvious any social platform was only going to follow suit eventually. Fairly strong, some might say 'feminist' views may be, but I do see her point!
I was also fascinated to hear that she (controversially perhaps) has removed Amazon's Alexa from her home. Her view on it was – why should we teach our children to shout a woman's name and demand answers without a please or thank you. What does this teach the next generation?! It was something I had personally never even considered but was good food for thought. Given I later found out you can tell Alexa also to shut up I wonder why we would ever program this into a 'personal assistant' device?
Her talk went on to describe the fabulous women techies of history – Dame Stephanie Shirley for example who in the 60s set up a company that only employed women, all working from home and trained them to write software including the Concorde black box flight recorder programs. She urged women to push the boundaries of technology but to do so ethically and with a view to making the UK a robust technological hub resilient to the threats a highly connected world poses.
Battle cry from @Marthalanefox: let's build an army of female tech ninja warriors not just to fight cyber warfare but to build resilience to technological challenges and make the UK the most diverse and rewarding place to do business #WinTechSeries

— Kat Derschewsky (@KatharinaOL) June 26, 2018
Her work creating https://doteveryone.org.uk/ is clearly her passion and its purpose is to champion responsible technology for the good of everyone in society. Apparently in recent research 50% of those surveyed said they used technology every day, yet only 12% thought that technology is helping society. It's a worrying statistic.
On the topic of diversity Baroness Lane-Fox also reminded the audience not to be defined by the environment you are in. And this was a common theme across the day –Head of Technology from Goldman Sachs, Jo Hannaford also said:
"If I sit in the room with everyone that looks and thinks like me, I won't find a creative solution."
'Innovation & Inclusion in AI' by DeepMind's Senior Research Scientist Raia Hadsall.
My other highlight from the day was hearing about DeepMind's work on AI. Deep Mind are an Alphabet company (as is Google) and their purpose is to 'Solve intelligence' and use it to make the world a better place. They are looking at all forms of AI and machine learning and their current work focusses on 'Reinforcement learning'.
Reinforcement learning (RL) is part of machine learning but different. Different in that for a machine to learn usually it is fed with data – big data. RL is inspired instead more by the human brain and behavioural psychology.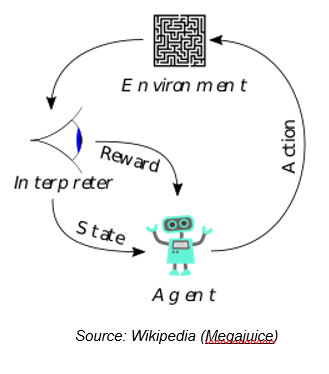 Reinforcement learning doesn't require any data to be input and sub-optimal actions are not corrected – the only proof of success is through reward markers. Essentially the machine learns though its interaction with the environment. This ultimately creates algorithms that mimic the human brain.
Using games and simulations, DeepMind essentially taught an 'agent' to tackle mazes and over time learn exit routes like a human would using memory and trial and error. This developed from 2D to 3D mazes and then to major London cities using StreetView.
Over time the agents solved puzzles like this as humans would, but with more time they started to be even more efficient, providing super human performance. The ultimate test was in trying to replicate the famous London black cabbie 'Knowledge' test. Known to enlarge the hippocampus of its students – it is THE biggest test of the human brain. Adding neural memory in this way to AI has brilliant applications such as helping the visually impaired navigate.
The work is fascinating and well worth reading more about here: https://deepmind.com/blog/neural-scene-representation-and-rendering/ and here: https://deepmind.com/blog/enabling-continual-learning-in-neural-networks/
A note about biases in AI
Raia also reminded us of the gap between humans and algorithms. There is a long way to go in making the technology better than the human approach. For example, AI mirrors human bias and can be escalated when learnt by a machine. There are lots of examples where automated decisions have been found to be flawed by the very bias we hope to eradicate. Whether it is advertising higher paid jobs to men, determining parole decisions based on the colour of someone's skin or facial recognition developing sexist tendencies – AI is no better at removing bias when ultimately a human programs it with data that is already potentially biased. (Hence why reinforcement learning is awesome!). Raia urged the audience not to let AI be left to the big companies – it is everyone's concern and can, in the right hands, be used to reduce and eliminate bias.
'The world is a stakeholder in AI. Don't leave it to a few companies to manage. AI can be used to reduce bias but without ethics and control it will only mirror existing biases'.
'Does Emotional Intelligence Really Make a Difference?' By Lia Zorzou of Girapp Innovations
"Everyday work harder on yourself then on anything else"
Interestingly, a lot of the day's content was focussed on professional development and personal improvement (not very tech-oriented at all). However, as we at The Happiness Index talk a lot about EQ and even have an entire stream of our internal training Academy dedicated to it – I was intrigued to hear what other people were saying about EQ.
"Emotional intelligence is the ability to identify, assess and manage one's own emotions, the emotions of others and that of groups. – Daniel Goleman
Lia talked about the obvious benefits of EQ. There were no surprises people felt it was important. She talked about the need for global active listening and empathy for others in order to truly trust and bond as a team. She spoke of self-awareness, self-management, social awareness and relationship management as being the foundation of real IQ. Most interestingly she related the foundation of highly effective teams:
Using the pyramid diagram below she explained that trust was the fundamental lynchpin of great teams. Without trust a team does not feel able to speak openly and to challenge one another. Without this no healthy conflict can take place. Conflict and resolution is key to making people feel committed to the decision and therefore ultimately accountable for their part in the task. Without all these underlying components, teams cannot be truly effective and deliver the best results.
Summary
All in all I had a fascinating day and met alot of amazing women in tech! There's still work to be done to make technology as a sector more inclusive but there is also of work being done now which need celebrating more publicly. Rather than focus on the past, I hope females in tech will start to celebrate the possibilities and look more at how they can be part of a socially responsible revolution in technology and cyber security. With 'technology eating the world' as it was described – who is really determining who is adding value to mankind and who is creating toxicity none of us need?
My final fun takeaway is that I am so disappointed I missed meeting Titan! I've always wanted to see him in person!
Catch Titan the robot at lunch & at the PM coffee break! #WinTechSeries pic.twitter.com/4Zx7jlY65E

— Maddox Events (@MaddoxWinSeries) June 26, 2018
You can sign up for next year's event here or follow the Twitter conversation with #WinTechSeries.