Create employee engagement in your business

Only 8% of organisations report they have usable data – Deloitte's Global Human Capital Trends report
Without data-led insights on your people, you are simply guessing. By listening to your people and implementing the changes they crave, you will help them feel motivated and engaged. Engagement and workplace happiness are widely accepted as being precursors for individual and organisational success. Research from Investors for People's suggests "Employee disengagement costs the UK economy £340bn annually"… so it's probably worth taking seriously!
We create solutions to help you visualise your culture, improve performance and provide your people with the freedom to be human at work. This ensures that culture, employee engagement and workplace happiness are assured!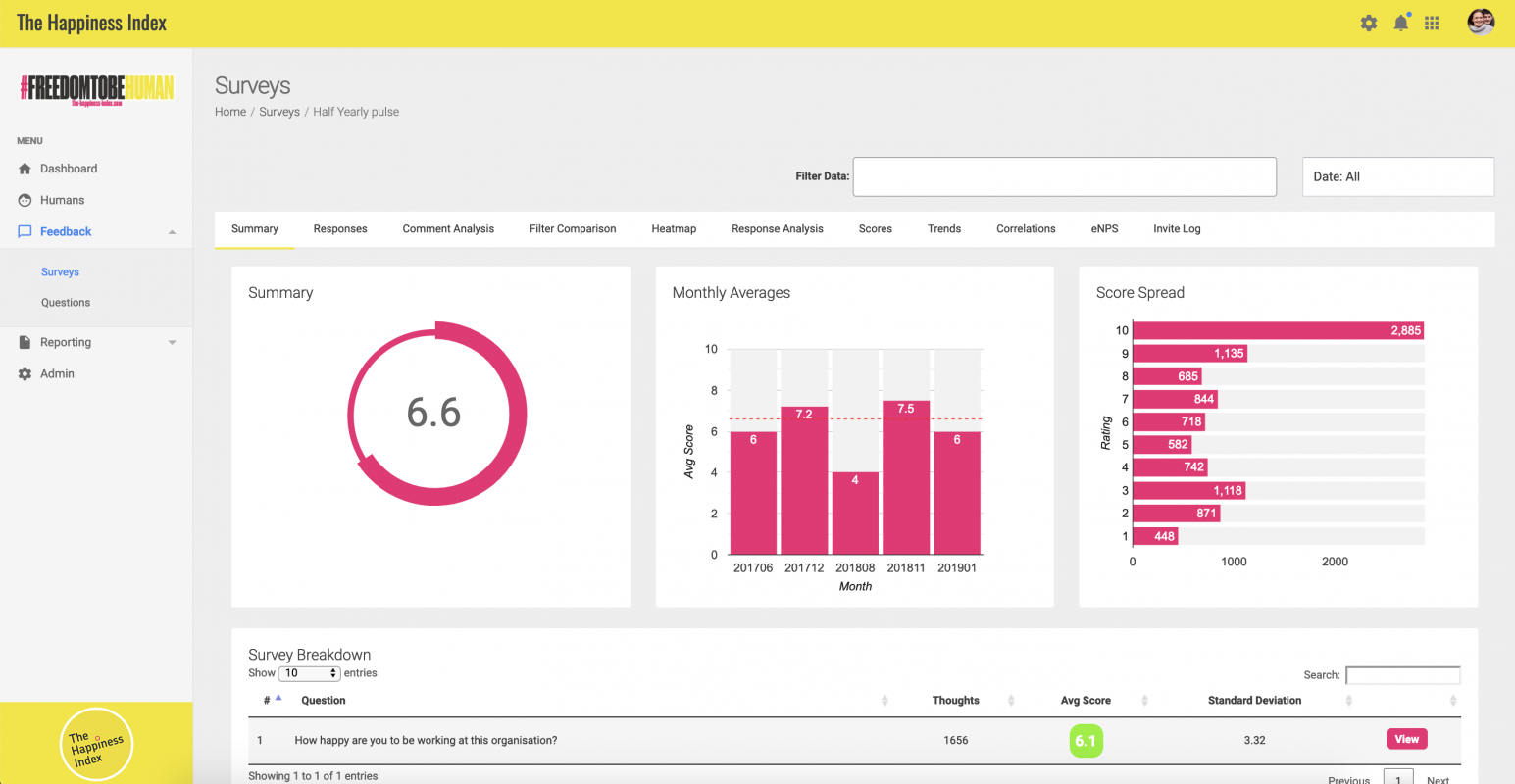 Companies with engaged employees outperform those with disengaged employees by 202% – Gallup
Our employee engagement surveys will help you understand your people and visualise your culture
Through our reporting and analysis platform, your people can highlight their thoughts, ideas, concerns and suggestions. After these insights are analysed, trended, segmented and organised into various charts and graphs – you can determine what to stop, start, change and continue doing.
This ensures you can easily create action plans to boost employee engagement and improve retention. Our platform is built for humans and is incredibly user-friendly. If you need any assistance then our expert (and very friendly) Account Management & Customer Success teams are always at hand to help too!

Discover our Pre-built, Personalised & Enterprise survey solutions. What's the best option for your business?
How we can
Help you
Emma Gibson|Group HR Manager|Henderson Group
"We're delighted with the service we have received from the Happiness Index. The Online platform gives us immediate access to insights and results, it's user-friendly and easy to navigate. The executive summary reports provided have also enhanced the service we provide to our line managers in terms of results and insights.

"Everyone at the Happiness Index team is responsive to our needs, going above and beyond to help us deliver a great information service to our line managers/employees. I would highly recommend using the team at Happiness Index for your employee engagement surveys."