2020 Vision | Creating Thriving, Human-led Cultures
If you're one of the (lucky) few who weren't inundated by our relentless promotions recently – we hosted 2020 Vision this month! It was a conference where industry experts spoke around helping people create thriving cultures and human-led businesses.
It involved entertaining and insightful talks, as well as expert panel sessions where the audience had the chance to really dig deep and discover the answers to any burning HR questions they had. It was a fun-filled day that brought together likeminded people and gifted them the opportunity to laugh, learn, build new relationships and share their insights.
Don't just take my word for it, here's a video which really captures the energy and sentiment of the day:
Happiness & Insight on Tap
All our speakers have a wealth of insight on the importance of creating human-led businesses to ensure a happier workforce, a healthier bottom line and a bigger talent pool when recruiting. Not bad eh?
We were confident that all our speakers would be amazing on the day and all our guests would interact, ask questions and network… but everyone exceeded expectations!
The conference was brimming with positive energy and provided an abundance of key takeaways for People Leaders and HR professionals to implement within their workplaces to make an immediate cultural and wellbeing impact.
Here are some of my favourite snaps from the day: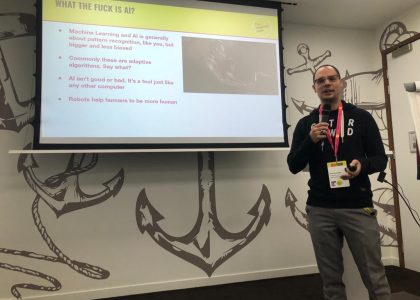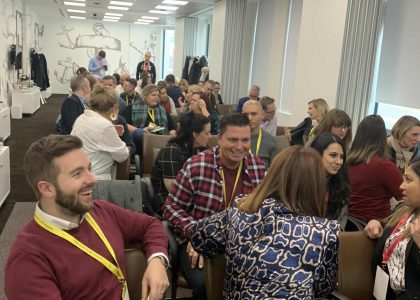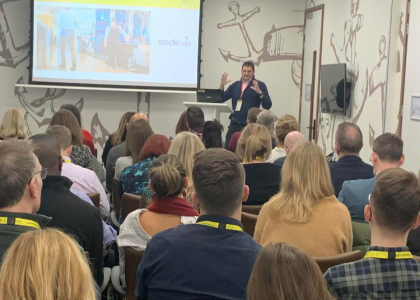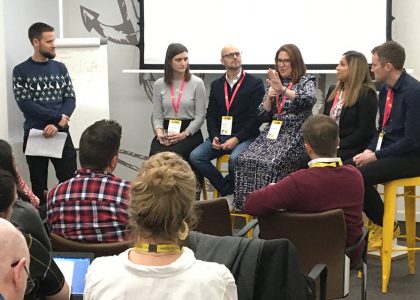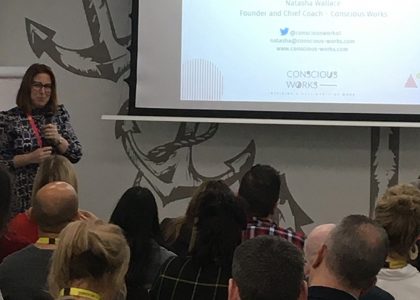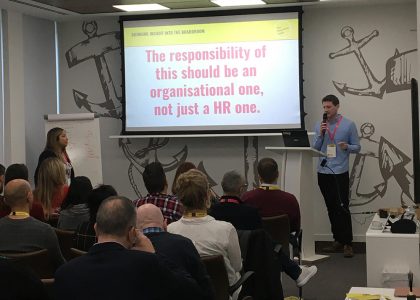 Who & What was on the agenda?
The hosts, Rosey Jarvis and myself kicked things off in our Xmas jumpers by introducing everyone, discussing how the day will pan out, making a few "dad jokes" and ultimately expressing how grateful and excited we were! We were a tough act to follow but our speakers rose to the challenge!
Following us was an amazing collection of speakers covering some important and engaging topics:
Matt Phelan, (our self-appointed) Head of Global Happiness
"Bringing happiness into the boardroom: Create a thriving culture through data-driven insight"
He discussed the challenges and structural changes organisations need to make in order to bring happiness into the boardroom.
Natasha Wallace, Author, The Conscious Effect
"Create a more human workplace"
She defined what a human workplace is, how leadership is becoming dehumanised and what businesses can do to fix & thrive.
Matt Stannard, Head of Robots

"Data collection in a modern world"
He discussed how businesses can give all their people a voice and the freedom to respond to provide feedback in a way that suits them to fulfil our vision of "Freedom to be human."

Dr Chris Delaforce (AKA Dr D), Data Scientist
"Using AI to develop an insight pathway from data"
He discussed how businesses can use AI an Insight Pathway to really dig deep and "get dirty with the data" – so the numbers are more reliable and robust.
Jay Chowdhury (Head of HR at Vattenfall) & Our very own Pat Phelan (Customer Success Director)
"Turn insight into strategy"
They discussed the importance of bringing people an insight into the boardroom and how forward-thinking organisations can use it to their advantage.
Not to forget our panel of experts:
Phil Baker, (Former) MD Customer Success, Cisco
Gemma Shambler, Head of People, The Happiness Index
Jay Chowdhury
Natasha Wallace
Matt Phelan
Happy testimonials
Charlie Casey, Senior Customer Experience Performance Manager, Barclays Bank – "… A first-class gathering with so much to take away. Thanks for everything you do… Well done to you all and an amazing event."
Heidi Asbury, Head of Happiness, VoCoVo – "Really enjoyed the event! Thank you! … I took lots away. I also love meeting up with my Happiness tribe! The Happiness Index rule! You always inspire me to do something different."
Nadine Furlong, Co-Founder, Ugly Features – "Fantastic day! So many interesting new ways of thinking about the world and work!"
David Gray, Head Of Marketing at Alembic Strategy Ltd – "Really enjoyed it. It was great to meet you guys."
David Hordle, Former CEO, MD, COO & Executive Director – "Fortunate to attend such an excellent event…great content, and superb speakers. Well done to all the team at The Happiness Index."
And a couple from our panellists:
Phil Baker – "It was a really great event and the time is truly here to drive a people-focused culture based upon new metrics and insights. There is no better time to be an HR professional and to be truly relevant to your respective organisations!"
Natasha Wallace – "Amazing event guys and thank you so much for the invite… I love being surrounded by people who are all trying to work out how to make the future of work a better and brighter place. We're building a movement…"

2020 Vision will be back again
In case you haven't realised, I'm pretty happy with the way the day turned out! We want to thank everyone who made the day so buzzing and insightful. It was inspiring to be around so many bright people with aligned goals and visions for the future of work.
Next year will even better! #2020Vision #Futureofwork #Freedomtobehuman
To find out about future events email us on events@thehappinessindex.com

Sign Up
Sign up for industry news, people insight and business strategy to help you create a thrive culture.