Look after your staff, or else? Just ask Laura Ashley!
Laura Ashley, one of the world's best-loved fashion and home furnishings companies comes from humble beginnings, established in 1953 back in Wales. However, has the business that established a global footprint and a strong reputation for pthe roduct now forgotten about its biggest asset… its people!?
Around 12 months ago a friend of mine had a job offer from Laura Ashley but she turned it down due to the reviews she read on the feedback website Glassdoor. We caught up over a coffee yesterday and she had heard that a member of staff had posted their resignation letter online, so curiosity killed the cat and I did a bit of digging.
Firstly, it appears that she made the right choice as the reviews on glassdoor are overwhelmingly negative.
Secondly, she was indeed right as it appears a former member of staff had taken to Instagram to vent her feelings on what she felt was poor treatment of her and her colleagues.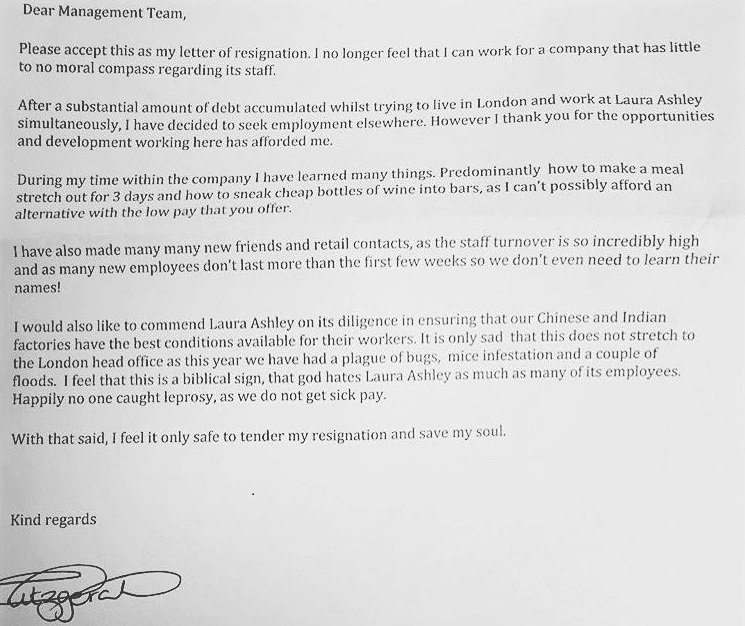 Can this type of damage to the brand truly be repaired? Who is going to want to work there now? Will they spend thousands of ££'s to limit the PR damage? Either way, demotivated employees are not good for business.
The problem Laura Ashley have is that we live in a connected world, hence if you employ many dissatisfied staff, sooner or later its going to get out. It sounds like this is a classic case of burying your head in the sand, don't become an ostrich. Laura Ashley have staff problems, so do lots of businesses, but by choosing to ignore it there are damaging repercussions to the business.
The solution should of been very simple… Give your employees a voice, privately. Listen to them, understand them, and then most importantly… act on their feedback! Laura Ashley should of managed this internally, but now their dirty laundry is very much out in the public domain for all to see.
The cornerstone to any successful business is its people! We know this, and our clients know to, which is exactly why The Happiness Index was born.
Ask, analyse, action!