Happiness & Humans – A day for People Leaders
For those of you who haven't been following our relentless promotions on social media – we hosted our own conference this month all around happiness in the workplace. The event was called Happiness & Humans and included panel sessions and speakers with a wealth of insight into workplace culture, happiness and wellbeing.
We were lucky enough to hold the event in the amazing Beach Room at the Google offices in Victoria. A fitting venue for such a fun-filled day.
Don't just take my word for it, here's a video we created which really captures the sentiment and energy of the day:
Happiness personified!
The whole day was filled with positivity, energy and an abundance of key takeaways for People Leaders to implement and make an immediate cultural impact and boost employee engagement.
We knew all our speakers, customers and other guests were amazing – but everyone exceeded expectations! The result was a bustling hive of people interacting, sharing experiences and making valuable work connections.
Here's some of my favourite snaps from the day including the winner of the funniest photo competition (directly below) which was taken via our photo booth, AKA "The Big Yellow Happiness Booth":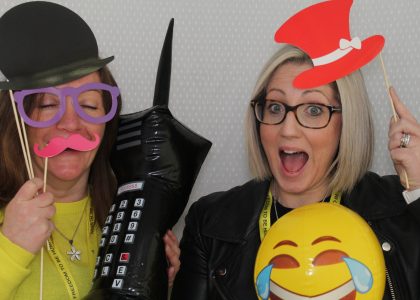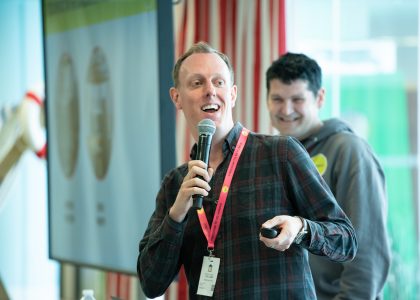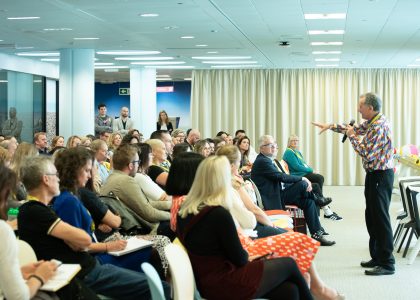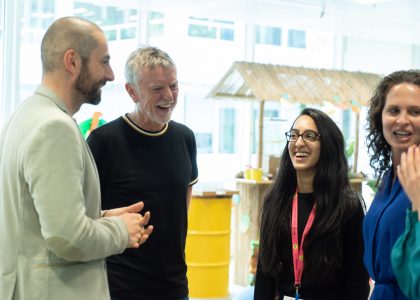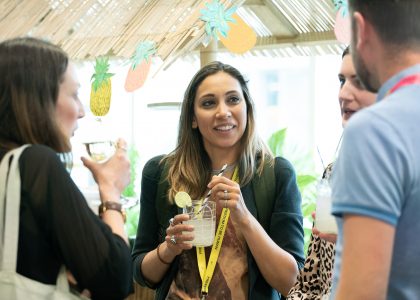 What was on the agenda?
We had an amazing collection of speakers covering some important and engaging topics:
Laura Willis, Co-Founder of Shine Offline gave an interactive talk about the use of technology – "The Digital Generation Game – What's the impact of our 24/7 connected world on our wellbeing, productivity, focus and relationships?"
Gethin Nadin, Wellbeing Director at Benefex & Author of "A World of Good" – "Can money buy happiness? The importance of financial wellbeing to the employee experience"
Andrew Patrick, former CHRO at WorldPay – "Winning Hearts and Minds: The common employee engagement themes in a 40-year career."
Jana Dowling, CEO of Arkeo and Founder of The 888 Collective. – "My journey and how I use data to help me manage my Mental Fitness."
Henry Stewart, Chief Happiness Officer of Happy Ltd & Author of "The Happy Manifesto" and Chief Happiness Officer of Happy Ltd – "Creating Happy, Productive Workplaces"
Our very own Matt Stannard & Tony Latter – "What does the Future of work look like, and how will technology facilitate it?"
Gareth Dunlop, CEO at Fathom – "History, happiness and hope – incorporating vision and purpose into culture"
Clive Hyland, Owner of Make Sense. – "Inspiration – What is the role of neuroscience when it comes to inspiring people?"
Kate Wood, Director of Culture at Chess – "How putting people first enabled us to become the number 1 ranked company in The Sunday Times Best Company to Work For"
Here's what Kate had to say about the day: "You know it's a good event when you are thinking about the content all weekend- great job done The Happiness Index. I was really proud to be part of it. Roll on next year!" We were proud to have you Kate!
happy Testimonials
Just to further highlight just how great the day was, here are a collection of some of the testimonials:
"Just a quick email to thank you and your team for making Friday such a special event. It was such a privilege to have been invited and to share in the rich material presented and to have the opportunity to have a discussion with fellow guests. You guys did a great job in organising the event and being able to access such a "cool' venue. I look forward to following the success of the happiness index and will certainly be singing your praises within the HRD community." Gordon Headley, International HR Director / CHRO / Consultant
"Thanks Happiness Index. Fabulous day at Happiness & Humans conference. An impressive line-up of thought-provoking talks, providing plenty of food for thought." Kay Gunn – Head of People, Sussex Cricket
"Huge thank you for inviting us on Friday – we enjoyed the day and we really enjoyed the content! Great event – very thought-provoking! We are even going to do a little generation game replay with the HR team on Thursday at our team day." Lee Kennedy-Fowler, HR Business partner – Selfridges
"Karen and Caroline from my team were raving about your conference on Friday. Both said it was the best they've been to in years – relevant and relatable content and fabulous speakers. Well done to you and the team for a brilliant first conference – we're already looking forward to the next one." Joanne Henderson, Clear Channel
"Just a belated thank you for the great event on Friday. It was very inspirational and gave me lots of ideas. A very enjoyable day." Joyce Chaytor – Saunderson House
happiness & humans will be bigger and better
What a day! We want to thank everyone who made the day so special! It was an honour to be around so many people who share the same goals and values as us! We promise next year will be bigger, better & happier! #Freedomtobehuman #Futureofwork