Employee Happiness Levels in Lockdown – Creeping Up but Remain Below Normal
We've been offering our Employee Voice 24/7 service on a complimentary basis for over two months now. As we delve into the data for a second time, what has changed about how employees are feeling in the last 3 weeks?
We're asking employees "How are you feeling today?". They simply score 1-10 (from pretty terrible to life's great), and then tell us why. Whether they're working or on furlough, employees can answer anonymously, whenever and with as much detail as they wish.
The average score has increased to 6.1 (up from 5.8) but remains well down on our normal average of 7.6. This increase in positivity is also seen by a 10% increase in the favourability score with half of employees (50.3%) now giving a favourable score (of 7 or above) (up from 40.4%).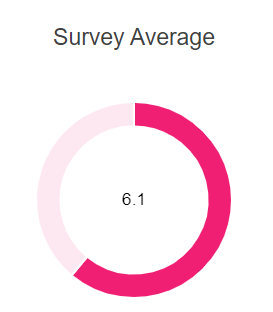 DESIRE TO SHARE FEELINGS REMAINS STRONG
We've seen the covid-19 pandemic increase the desire amongst employees to share the detail on how they are feeling, and this remains unchanged with three-quarters of employees (74.8%) continuing to leave comments – more than double the average seen before lockdown.

The length of comments left also continues to be extraordinarily high at 38 words (versus 10 words pre-lockdown).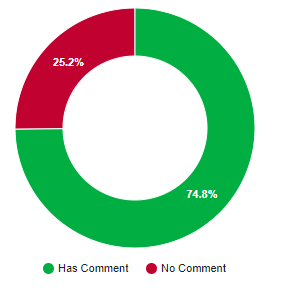 WIDE VARIATION IN HAPPINESS ACROSS SECTORS
The sector with the lowest level of happiness is currently Financial Services at 5.8, closely followed by Retail and Charities & NGOs at 5.9 respectively. The 3 happiest sectors are currently Engineering (7.9), followed by Logistics (7.0) and Science & Technology (6.8).
WHAT ARE THE EMERGENT SENTIMENT THEMES?
By analysing and visualising this rich data in dashboards, we're able to help employers understand what's really on their people's minds.
POSITIVE EMERGENT THEMES
Work remains the dominant positive in many people's lives right now.
In the last 3 weeks we've seen a dominant positive theme emerge around the home. With employees commenting that:

They are now used to working from home and that it makes them feel safe, gives them more flexibility and enhances their productivity.
For many it has led to thoughts about what the future of work looks like and a hope that their organisation truly embraces home working moving forward, and a strong desire to spend less time commuting.
As time has progressed, we've seen more employees moving through the making sense of change curve. They have processed the enormous changes to their life and are reflecting on what it means:
 "A really perspective-changing time."
"This kind of family time in real life cannot found in 28 days holiday – it is time with my children I will probably never know again".
"Lockdown has made me appreciate other aspects of life which I previously took for granted."
"Enjoying the slower pace of life".
NEGATIVE EMERGENT THEMES
Unsurprisingly work also remains the strongest negative theme particularly for those:
Working parents
Living alone who miss their team
Key workers still going into their workplace during lockdown
The need for employers to communicate how they can support the wellbeing of their people remains with a continuation of the theme around stress and anxiety.
Allied to this is the requirement for organisations to help their people develop mental resilience as they struggle to cope with the continued uncertainty of their situation in relation to:
Their future employment
The length of lockdown
When they will see family and friends again.

EMPLOYEE VOICE 24/7 PLUS – NOW AVAILABLE! 
Due to popular demand we're releasing our brand new paid for Employee Voice 24/7 Plus edition. It includes an enhanced feature set including multi-lingual, data filters and benchmarks. Contact us for a 10 minute demo!
Sign Up
Sign up for industry news, people insight and business strategy to help you create a thrive culture.