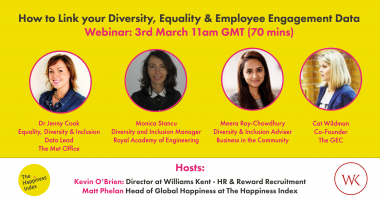 How to Link Equality, Diversity and Employee Engagement Data
Mar 3, 2021
Matt Phelan and Kevin O'Brien of Williams Kent were joined by:
Dr Jenny Cook, Equality, Diversity & Inclusion Data Lead, The Met Office
Monica Stancu, Diversity and Inclusion Manager, Royal Academy of Engineering
Meera Roy-Chowdhury, Diversity & Inclusion Adviser, Business in the Community
Cat Wildman, Co-Founder, The GEC
What are the biggest challenges that companies are faced with when it comes to the collection and use of Diversity data?
How does the collection of Diversity data impact on Employee Engagement?
Should we be disaggregating Diversity Data to look at intersectionality? Why?