"New World" leadership – The greatest tool for leaders is self
Arguably the world of work has changed more in the last 10 years than it has in the last 100 years.  Alongside the tech boom, a perfect demographic storm is impacting the beliefs and intentions of organisations and their people.
Baby boomers are now entering their 60's, triggering for many a reflective process – the consideration of legacy and a greater need for purpose.  The much talked about millennials are progressing into leadership ranks and their profile means they seek development, meaningful work and fulfilment.
When we look at our organisations, once hierarchical firms are becoming networked and working approaches are adapting to build innovation and increase flexibility. We are now all part of the digital generation.  Where we are constantly connected, recorded and able to share.  Some businesses are starting to align profit with purpose and motivation 2.0 as coined in Dan Pink's book Drive denotes how organisations need to re-evaluate how we work and drive engagement through autonomy, creativity and purpose.
Why we must demand more
These changes are not only affecting the way we work but also employees' expectations of the organisations they work for.  With constant connectivity, an organisation's employer brand is critical to be able to recruit and retain the best people. Arguably where employer brand is concerned the biggest asset is reputation and the best ambassadors are current and former employees.

Organisations are investing millions to create great work experiences, in their office spaces; dynamic digital technology, interactive apps and virtual reality are commonplace.  However, if businesses are not developing to culturally align, the full value of investments will not be realised.
It is well understood that culture is formed by the parameters and behaviours leaders have and set. Effectively how they operate creates the environment their leadership permits.  At its heart culture is a reflection of what leader's role model and how the organisational system comes together to enable people to perform. As a top-down phenomenon, the difference between the espoused and the actual culture provide many valuable insights. To effectively generate these insights, business leaders can adopt pulse surveys which gather feedback from workers and allow them to understand their company's sentiment.
#Newleadership – leadership for now
The new world creates different demands in terms of leadership.  As part of our work, we have coined the phrase #newleadership.  In doing so we recognise that the way organisations keep pace comes from the environment and opportunities leaders create. In old world leadership, organisations were hierarchical beasts, leaders had oversight and high levels of knowledge – they had the insight to make and take responsibility for critical decisions.
New leadership enables networked and agile ways of working, the knowledge is held within the team.  The leader becomes a conduit and enabler. Without the specialism of those they manage; they must facilitate, engage and create a positive challenge to drive success.
Becoming a successful leader
When we talk about people's journey into leadership, leadership transitions, this is one of the changes that many leaders have difficulty with.  To be successful requires leaders to let go of their expertise (what they built their success on) and enable others to grow. The leader must hold a big picture view – a picture that over recent years has got much bigger!  It's their role to package that up, share it and create powerful and meaningful stories. Enabling engagement to happen in and within the purpose of the organisation.
The phrase VUCA (describes the volatility, uncertainty, complexity and/or ambiguity of situations) holds uncertainty to be a derailment risk. In #newleadership uncertainty creates the point of disruption. It's an opportunity to be capitalised on. Leaders who manage paradox and find opportunity in 'not knowing' can enable their teams to win and grow opportunities.
Their position becomes about influence, not power.  Success comes from being able to create a container that allows people to perform. Leaders build strong connections internally and externally that inform their perspective.
Creating a new leadership landscape
Leadership happens in relationships, and therefore one of the greatest tools a leader has is themselves.

Success comes down to the way leaders think, perceive and process and then go on to act and interact.  If we look at Keegan's adult development framework traditionally we developed leaders to become self-authoring.  You can see how this fits in the #oldleadership methodology of the hierarchical leader as a hero – saving the day.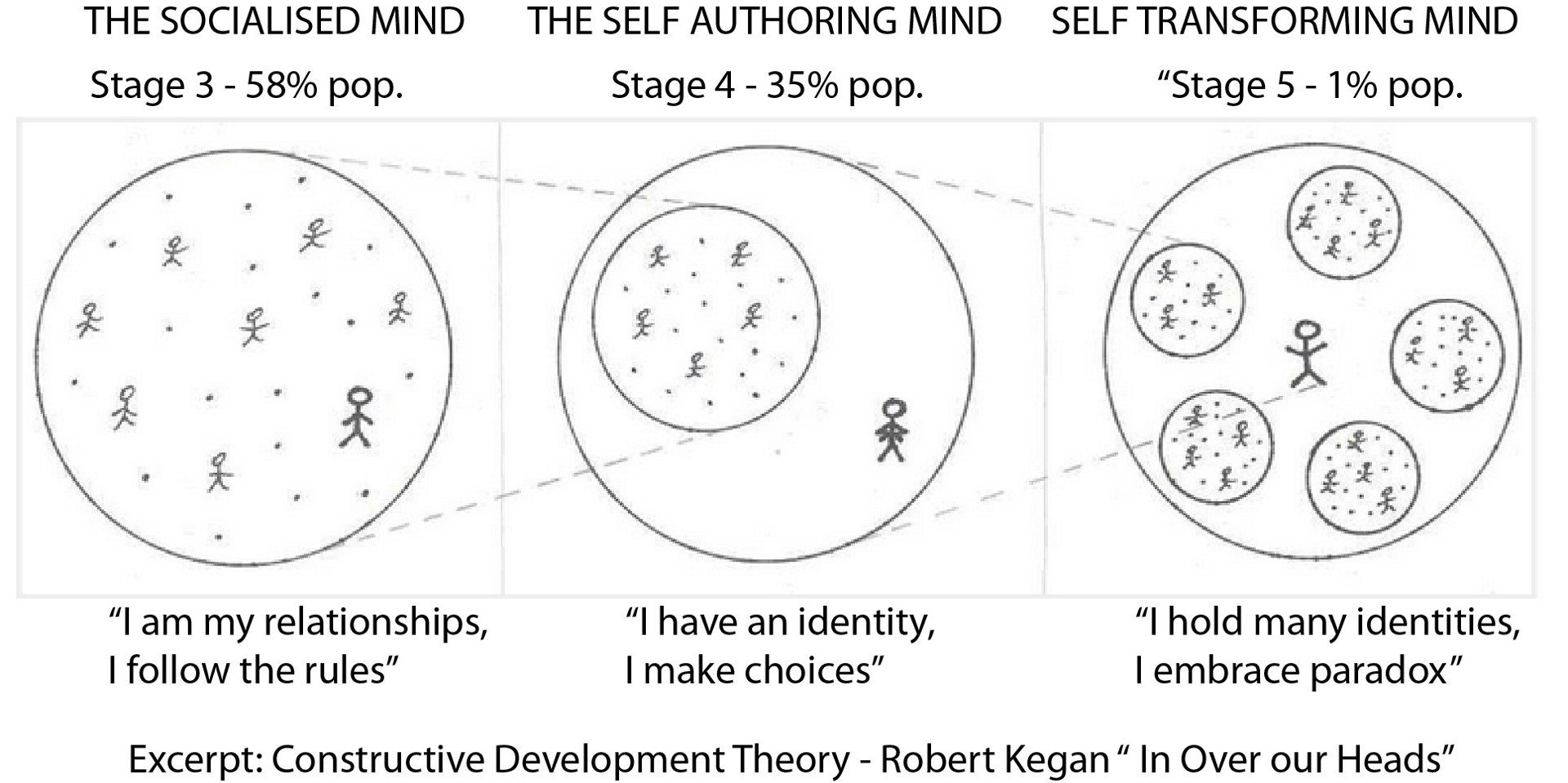 The success in #newleadership is the ability to see and hold different perspectives – as seen in the self-transforming mind.  When we develop leaders in this space we help them to embrace both self-awareness and social awareness, to know themselves as well as seeing the forces and patterns that occur within people and to understand how they impact.
How do we effectively develop our leaders?
When organisations consider development opportunities, initiatives should incorporate activities that broaden leaders perspectives and bring into focus the wider organisational system.  Leaders must develop insight into the interplay of the forces that drive how their business operates.  When leaders can see and hold the broader perspective of what is happening in an organisation, to be attuned and connected deeply, they are able to sense the shifts in patterns of behaviour and respond accordingly.
Behind all of this great stuff, leadership development has to be committed to growing their leaders capacity to read and understand their environment. When we work alongside leaders in their development journey, we listen; past the stories they tell, the emotions they hold – we listen to the lens and beliefs they hold that are ultimately driving them.
To develop for #newleadership we help move those processes from subject to object. Increasing leaders ability to hold themselves in balance with a broader perspective.  Whilst elements of content and tools have a place, without a deeper approach to development, we will not transform performance.
Organisations need to consider this in their selection processes and talent management programmes, how they work with rising stars.  Sheep dipping leaders in one-off events where they learn a model doesn't create the stretch and tension necessary for leaders to do this work.
Leaders become attached to the behaviours and approaches that made them successful.  Traditionally talent is noticed because an individual stands out, both the organisation and the rising star capitalise on their unique knowledge – the hero is born!  It becomes a valuable currency that is held on to – but one that reduces organisational capability when we consider managing complexity.
Delivering leaders that impact
It is critical for the HR community to move the leadership paradigm forward.  Developing their approaches as they partner leaders to build perspective and ask questions that help leaders to challenge their perceptions and broaden their insights.  Using tools that build conversations and insight such as World Café, Appreciative Inquiry and real-time pulse surveys that gather feedback and gauge sentiment will all create a dialogue that provides deeper insight.  Ensuring coaching is built into development programmes to enable leaders to go deeper with their learning is essential. It will bring it back into the workplace and embed it for greater impact.
When organisations develop leaders in this way they can lead for the future.  They align alongside their teams and organisations.  They create powerful rhetoric and stories that provide the purpose to drive commitment.  They build trust and develop working environments that align with both the physical and technological landscape to develop the whole package.
By daring to be different, you enable your organisation to be so too. This will put your organisation on a path to where the now "holy grails" of innovation, creativity and curiosity are free to flourish.